Do you have a brand reference document? A document that references all your website colours, fonts and image preferences?
When I first heard about this concept, I wasn't entirely sure a document like this would be useful, but, as a virtual assistant, I often need all of this information when I begin working with a new client. If a new client has this information, it saves me loads of time, I just need to refer to one document.
What kind of information is needed for a reference document like this? Here are some ideas:
Your logo and logo variations
Your website favicon
Colour palette – primary and secondary, if applicable
Fonts – primary and secondary, if applicable
Image examples and any special instructions for choosing new images (for example, I have a client who has 5 main brand colours, all interchangeable, and another that only wants spiritual-type images)
Patterns/Textures
A brand reference document should be no more than one page long, stored (and backed up) with any of your website/brand documents.
Benefits of a Brand Reference Document
Keeping it short and sweet, and in a place you will remember will make it easy to send it to someone you've hired to help with your social media images or website branding.
Every website has, or should have, a general feel or flow, and that feel/flow should carry over to your social media. I talked about the importance of branding in this blog post, but the basic idea is to keep your online presence consistent throughout.
This reference document will make it easy to create and maintain a consistent brand, long after you've created your brand. It can save you time and money in the long run to have a document like this.
If you don't already have something like this in your tool kit, I can work with you to create one. Here is an example, it's my own brand reference document: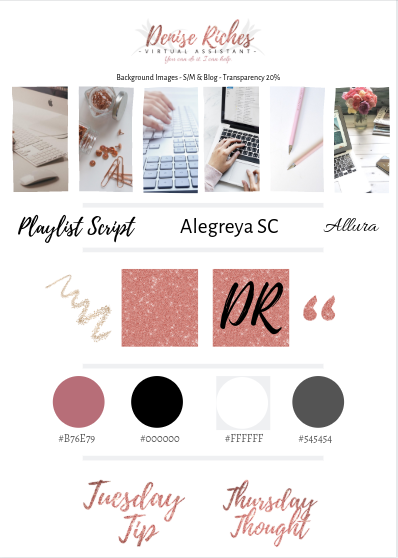 Of course, your brand reference guide doesn't have to be this fancy!
Basically, you'll want to have your logo, font names and any HTML colour codes, and it can just be a text document. The point is to have all the information in one single document, so that you can access it whenever you need it.
What would you do with an extra ten hours a month (or a week)? Book a free consultation call with me and let's talk!