With how busy everyone is these days, it's truly no wonder that we sometimes find ourselves stressed, flustered and disorganized.
In a nutshell, these are some things we do on a daily basis:
work our day job
hobbies
exercise
manage a household
organize the kids and their activities
plan meals
attempt to have a social life
read
And that's just the tip of the iceberg. Having all of these things (and more) on our to-do lists, it comes as no surprise when things fall through the cracks or get forgotten.
In a Facebook group I'm part of, I was excited when there was a productivity challenge. While I can't share the exact challenge (the FB group is private), I can tell you how you can get just as organized!
Start with a list
Over the course of a day, write down all the things you have to do. Keep a sheet of paper handy, and jot things down as you go about your day. If you need a couple of days to do this, go for it.
Expand your list
Once you have a list of everything you have to do, I want you to make another list. Either on the flipside of the first list or on another sheet (label the lists to keep them straight). On this list, write down things you'd like to do. If you'd like to get a weekly massage or block out an hour every evening for reading, this would be the type of task to go on the list.
Choose your calendar system
Ideally, this is set up for a digital calendar, and the example we were given was within Google Calendar. HOWEVER, I'm sure it can be set up within Outlook as well.
What to do next
This is my favourite part!
First of all, figure out how many calendars you need to make your lists work within the calendar system. You can choose one for work, one for personal, one for the kids or family, etc. In Google Calendar, every calendar added can be colour-coded and turned off and on at will.
Settings: This is important because this is where you set up language, country, time format. It's also where to set up time zones, task duration, and various default calendar settings. Taking a few minutes to go through all of these settings will ensure that your calendar works flawlessly in the future. Also, nothing is set in stone, here, so if a setting isn't working for you after a couple of days, just pop back in and change them. Save the settings before you navigate back to the calendar.
Getting down to business
Now it's time to add everything from your lists, beginning with the things you have to do. So, dropping the kids off at school every day would fall on this list. If you have standing appointments every week, that needs to be added as well. Everything you have to do every week should be added to the calendar first.
If you have bills that are directly paid from your bank account or bills that have to be paid via mobile banking on a certain day every month, add those bills to your calendar as well, and set reminders for yourself a day or two prior, to be sure you have the funds in your account. Also, set these types of things on repeat, so that they are automatically on your calendar each month.
Dentist and doctor appointments, social events, time for personal reading or particular business tasks, it doesn't matter what it is. By putting it all into one calendar, you can't miss any task or appointment.
When setting up a new event, there is a Notes section in the event setup page, which is perfect for adding specific information. For example, if you're heading to a friend's party, this is where you could add information about what you're in charge of bringing. The address feature of a new event is also quite handy.
The other stuff
Birthdays and anniversaries should also be added in (you can use a separate calendar for these specific dates). Having these added to your calendar will ensure you never forget to send a gift or a card again. And because they happen every year, they should also be put on repeat.
Things you'd like to do also get added to the calendar. I block out my lunch hour, watering my plants and on the weekends, my household maintenance chores. I've also added certain tasks to my calendar that my husband needs to take care of for our family. I've added him as a guest to the appointment and set the event on repeat as necessary. He gets a notification on his phone and is instantly reminded to take care of that task.
If you require a hair appointment every couple of months, add it in, and set up a calendar reminder a week in advance so you have time to book the appointment.
Adding the mobile app to your phone is smart for when you need to make an appointment while you're out. It's also great for checking to see if you're available for that social event you've just been invited to.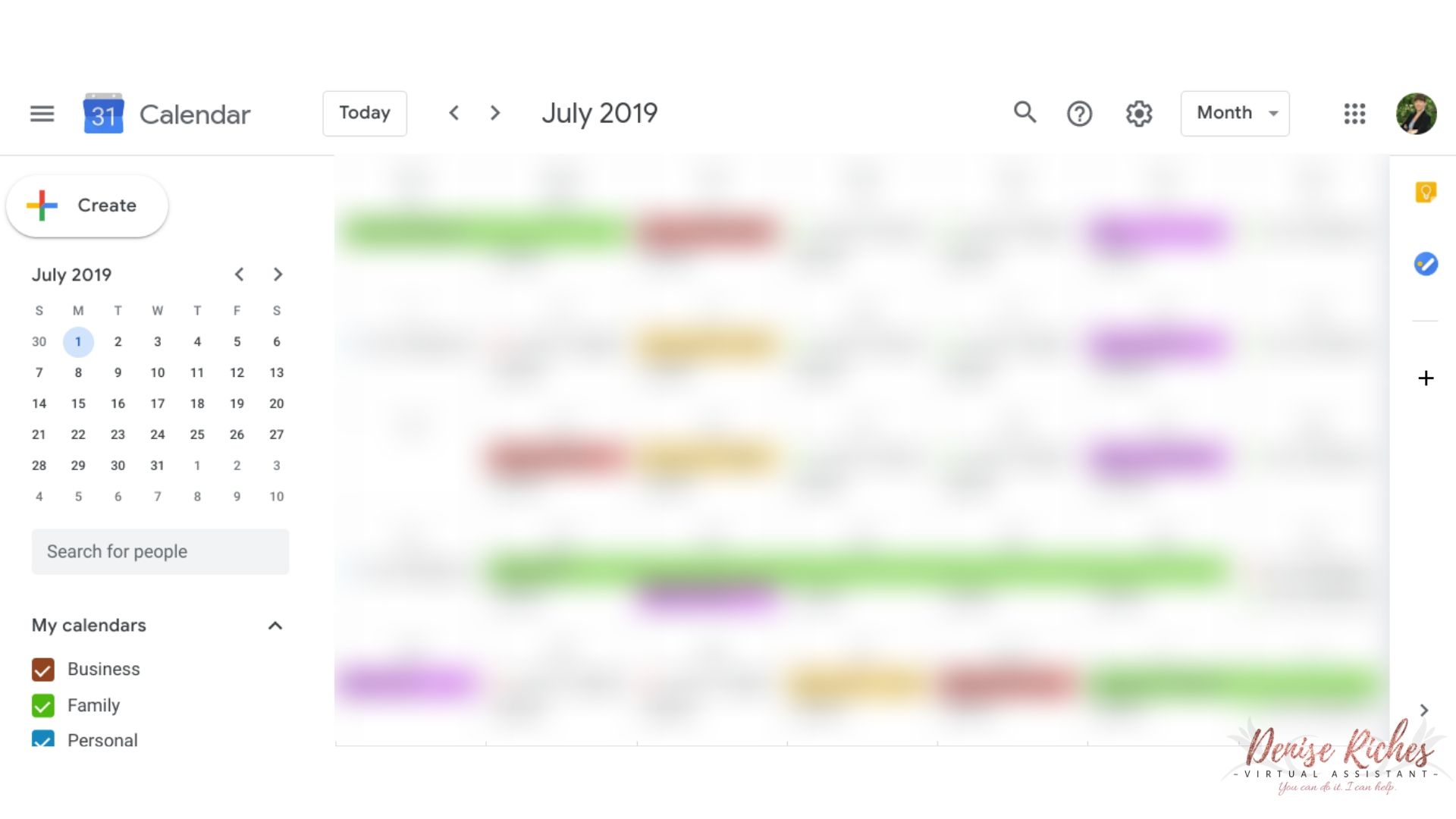 What else?
Some people love this feature, and others hate it. I have a love-hate relationship with the task list feature. If you don't see it immediately in Google Calendar, it's an arrow tab found on the upper right side of your calendar page. Click on it, and you have access to a task list. You can set deadlines and check off items as you complete them.
Since implementing this calendar, nothing has slipped through the cracks. Reminders that I've set up give me ample time to stay on the ball with everything I need to do. Checking things off of that task list makes me feel so productive.
I know you can benefit from this the same way I have.
Book a free consultation call with me to discuss this and other organizational methods.