Contemplating the hiring of virtual admin? Interested in getting some admin tasks completed virtually? Not sure about the pros and cons of such a decision?
I'm here to break it down for you.
Pro #1
You will save valuable time by delegating your admin tasks to someone else. This happens simultaneously as you'll also be creating more time for what's most important to you. And just what is that? Focusing your efforts on your core business, getting your brand recognized and growing your presence.
Con #1
You might find you're out of the loop. Without having your hands touch every aspect of your business, maybe you'll feel disconnected. A great admin assistant will be on the ball with communication. They can send you a summarized account of their accomplishments and any updates you need to be aware of. Plus, if you're being billed hourly, you should expect a weekly summary of what was completed.
Pro #2
It will save you tons of money to hire a freelancing admin assistant. Did you know that a marketer or consultant can tie all or some of the VA fees right into their expenses? This means your VA is practically free.
Even if you aren't a marketer or consultant, the savings are still going to be substantial, as you won't need to pay for office space, benefits or vacation pay. WIN-WIN-WIN!
Con #2
Hiring overseas means even MORE cheap work, but, beware. You get what you pay for and it couldn't be truer when looking for virtual admin support. Language barriers can wreak havoc on timelines and expectations. Communication won't be as clear as it could or should be. Sure, you're paying a dollar or two an hour, but is it QUALITY work? Or is it the absolute bare minimum, if it's even what you asked for at all?
Spending the money on a great virtual assistant is going to breed loyalty. It should feel like you have hired a true team player, a right-hand (wo)man.
Pro #3
As stated earlier, a great freelance virtual admin assistant will feel like a true part of the team, who takes your wins and losses and treats them as their own. They will care as much as you do and put as much effort into succeeding as you do.
Con #3
Choosing the wrong virtual assistant will be obvious right away. You will notice limited communication, few updates if any at all and it will be impossible to get a hold of them. You don't want this in a business partner, which is exactly what a good virtual assistant will be to you.
Here's a cost breakdown of the difference between hiring a full-time employee and a virtual assistant (downloadable as a PDF as well):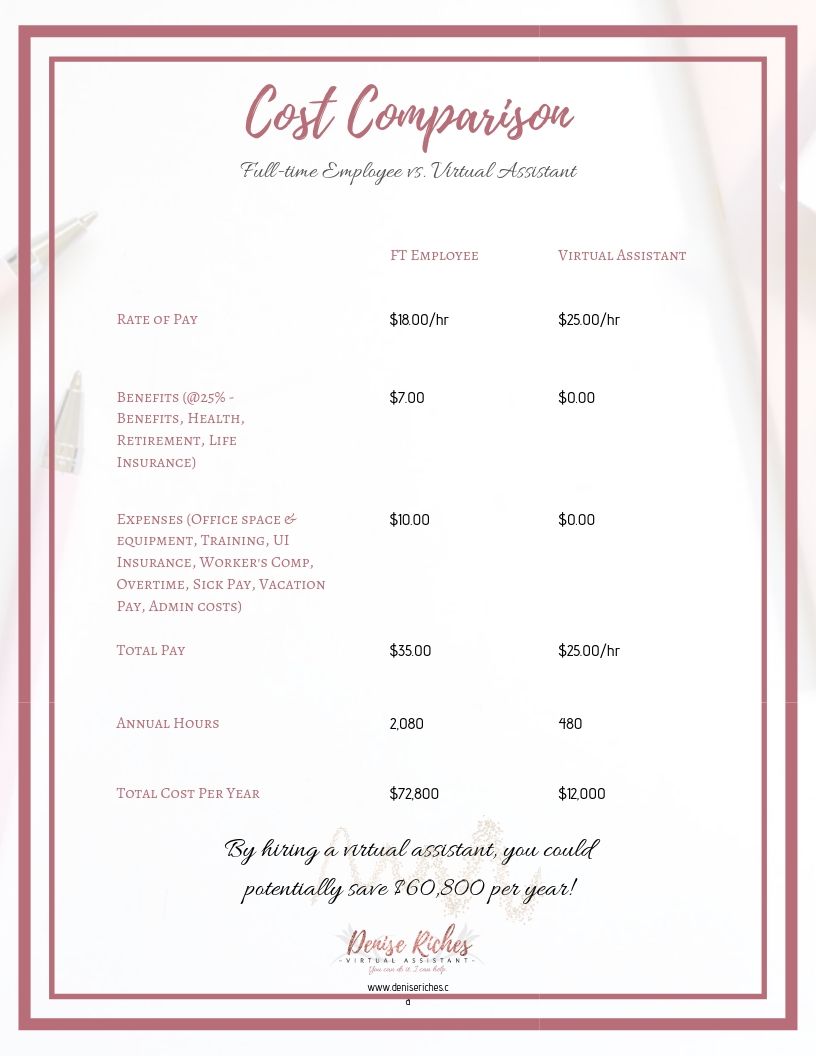 In closing, you want a good caliber virtual admin assistant working, not for you, but with you. You likely want someone who can anticipate problems and correct them before they happen. You're going to need a freelance office assistant with a sense of urgency. Good communication skills. Someone who is honest and reliable. Who wouldn't want this in any business? Virtual staff should want what's best for you and your business.
Ready to get started? Check out my list of 10 Things You Can Outsource Now.
Book a free consultation call with me and we'll discuss how to move your business forward.