Updated October 2020.
Things have definitely changed since I first wrote this blog post. Freelancing and working from home weren't quite as normal as they are today. Thanks to Covid-19, many more people are working from home than ever before. And I'm sure many can attest to the fact that it's not as cushy as some might believe!
If I'm being honest, though, while it IS great.. there are definitely some downsides to it, at least until a routine is put into place:
No one's looking over your shoulder
Myth: There's no one around, so you can do whatever you want, whenever you want.
The truth is, a freelancer still needs to get the job done according to the deadlines given by the client. And it's not easy, especially when those warm, summer days start calling your name.
While it can be difficult to buckle down on the nicest days, if the work doesn't get done, the pay doesn't come hither.
For myself, I find I am most productive in the morning, so I get a lot of work done before lunch. I've never had any problem meeting a client's deadline.
It can be difficult to stay motivated
Myth: Motivation comes easily!
Having no manager means you have to manage yourself as a freelancer. This ties into the above point because productivity and motivation go hand in hand.
When the work is complete, a freelancer should always be striving to move forward. Writing blog content, scheduling their own social media, communicating and finding potential clients is all part of the package.
You're home, so that means you're free
Myth: If you're at home, you're obviously doing nothing.
This was a big challenge for my family when I first started as a virtual assistant.
"Hun, can you look for this document for me… I forgot to do it when I was home."
"Mom?"
"I need a favour, can you call…"
"So-and-so's dropping something off later."
"Mom..?"
Thankfully, it's not like that anymore. When I'm home, I am working (the majority of the time). However, while us freelancers are home, we might as well take advantage of some of the perks, right? I'm sorry but who can resist this view: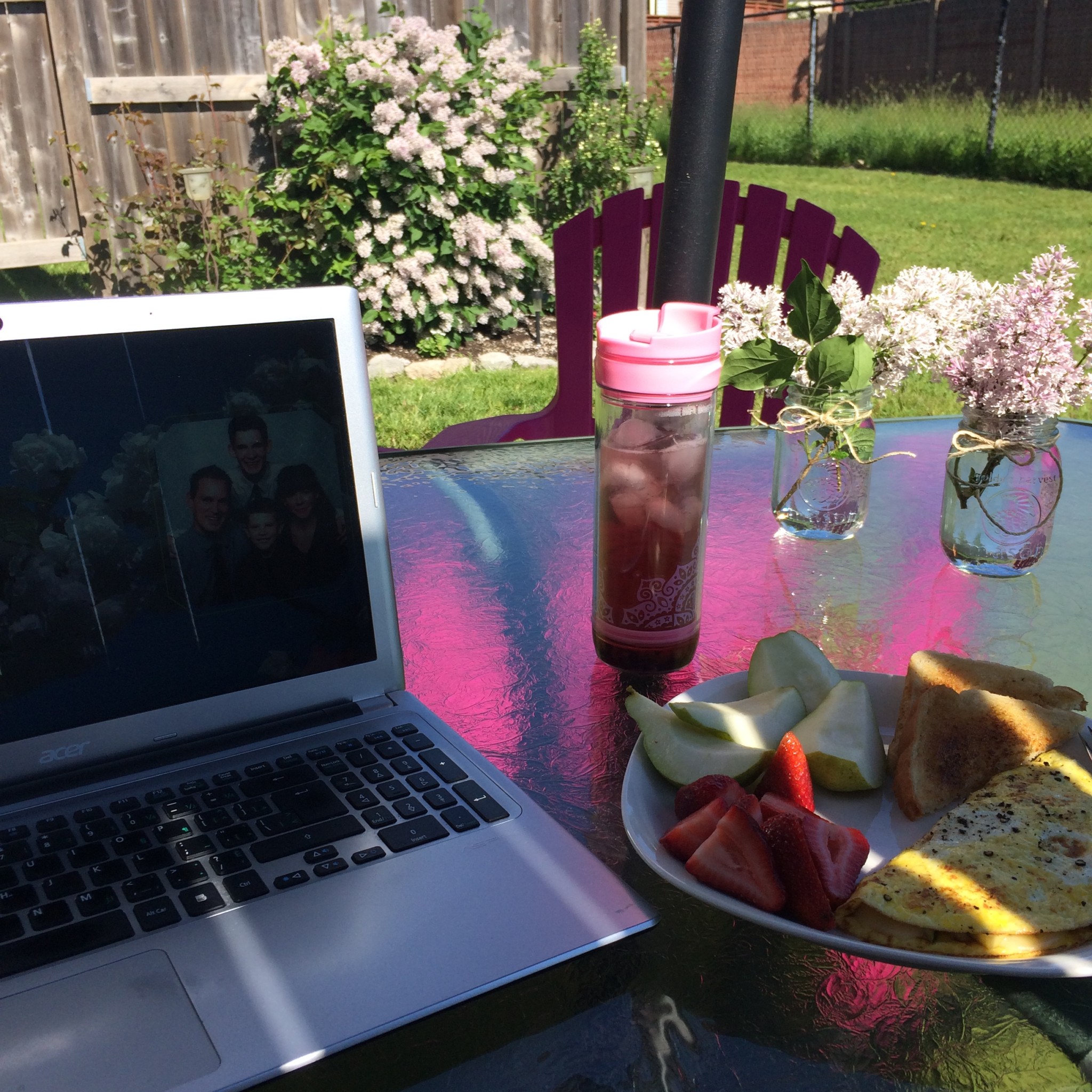 There's more outside noise than you'd imagine
Myth: It's so easy and peaceful to work at home.
I've had to listen to roofers working, construction workers drilling and digging, noisy birds on the eavestrough just outside my office window, huge trucks driving by, the neighbours being loud, the lawn maintenance crew making a racket… the list goes on. It's not always easy to concentrate during all of this noise, and it's next to impossible to have a Zoom conversation during some of it.
Thankfully though, it's more peaceful than it is noisy, most of the time. And good earphones with some tunes help!
It can be difficult to stay active
Myth: Working from home means you'll get fat.
This is something I noticed right away. In my job, I was quite active, as it was a very physical position. It required using pump trucks, wrapping skids, a LOT of walking and some lifting. I found it very easy to hit 10K steps a day on my Fitbit… but once I left, not so much.
A freelancer, depending on what they do, spends most of the day in front of a computer. I LOVE this part of the job. I love working with computers, but sitting down for the majority of the day is not healthy. Plus, the fridge is RIGHT THERE.
Taking my son to school, and meeting him after school has helped. The challenge will be finding the motivation when school is out for the summer. I put on some wireless earphones and crank the tunes. I'm sure I look ridiculous, but at least I'm healthy.
The best of both worlds as a freelancer
While struggling to get around these challenges, I've learned that being a freelancer isn't always a walk in the park. There's always more to learn in my job, and I love the fact that I can do that from my own home.
Having breakfast outside is a treat, but at the end of the day, the paycheque comes from billable hours. No work = no money… and if that happens, that will never happen, because I love my work.
Helping clients is just so satisfying. I've said it before, but I have to say it again: I'm grateful to have each of them.
I work from home, but my focus is on helping my clients to move their businesses forward. Book a free consultation call with me and let's talk about how I can help you.
Struggling with your workload? I can help alleviate some of that stress. Download my VA Delegation Worksheet to get started!