**Updated October 2020**
I firmly believe that working in an organized space helps reduce stress and increase productivity. So when I got the bug to reorganize my office in late 2017, I had a firm idea of what I needed to do to make it the most functional for my needs.
My husband and I bought our townhouse in 2004, and we knew right away that we wanted a shared office space in what was originally roughed out to be a walk-in closet. Yes, ladies – I gave up the walk-in! In my opinion, more space means more opportunities for a mess. The behind-the-door closet was more than enough space for our clothes and we'd always liked the idea of sharing a space.
Of course, my husband had an older computer system, complete with a clunky computer monitor and CPU tower. I had my Toshiba laptop, so I didn't require a lot of room for my computer.
Fast forward to better technology, we both ended up replacing our computers. My Toshiba's hard drive went kaput and didn't last long after it was replaced. We both opted for Acer laptops. I'm not sure when it happened, but my husband spent less time in the office and more time in the living room with his laptop. I wanted to hang out with him, so I spent more time there with him.
The office became a catch-all. All the bills got piled on the desk. The forest of trees in the form of papers from school from two kids? That got put into more piles on the desk. It was a royal mess, and that was just on the surface.
When I began my business in the summer of 2016, I cleaned a lot of the junk out and began working in the office on a daily basis.
I added a space heater for the winter months and had a pretty good system in place.
During a slow December – workwise – I decided to get down to the bare bones of the office. I cleaned all the filing cabinet drawers out. Then I organized old CDs and CD ROMs (my Acer still has a CD-ROM drive, how's that for retro?). The first step to cleaning a space, in my books, is clearing everything out. Hardcore cleaning.
I removed everything from the desk surface and wiped it down.
The fun begins
My husband had access to some pegboard from work, and he brought it home for me. I painted it white, and he installed it on the wall I face while hard at work. We went to Rona and purchased a bunch of pegboard accessories and some pink paint. I painted all the accessories and hung them when they were dry. I painted an old IKEA pot lid organizer to store my most-often-used client files.
After putting everything back into the office, it felt like an entirely new space, and I loved it. I still do!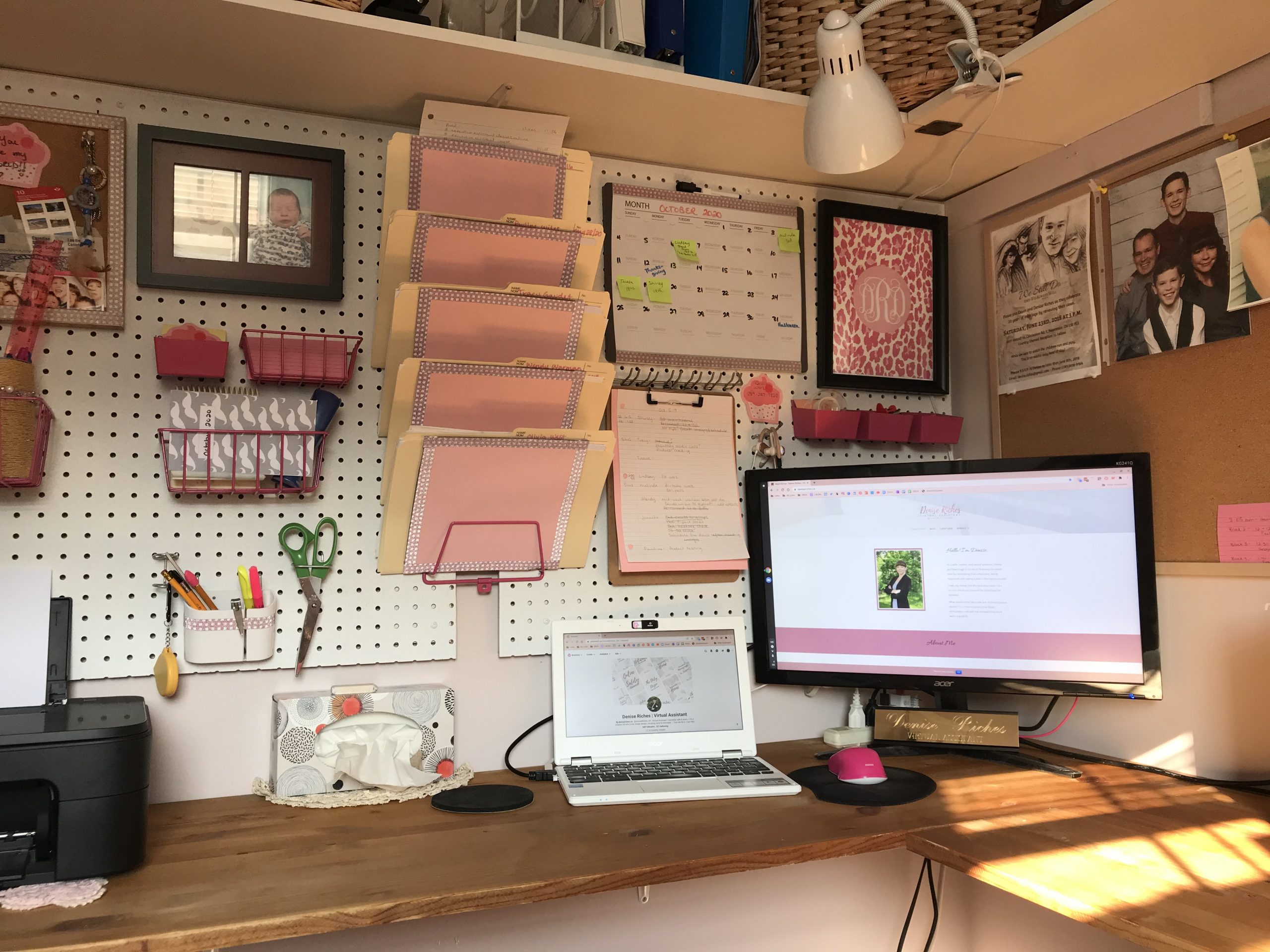 When our oldest son had a peek at it, he said, "So I guess this isn't dad's office at all anymore.". He got that right!
My office is pretty small, and while I've stored a lot of things within it, I always wish there was a better use for the wall behind me.
Reduce, Reuse, Recycle
When our oldest son wasn't pawning his old stuff onto his younger brother, he was always putting it in the basement. I found this frustrating because I already had a challenging time keeping those two areas clean. However, in this case, it was beneficial to me.
He had a narrow set of black shelves that he claimed he couldn't use for anything because of how narrow they were. I had a brilliant idea one day. When I measured the shelves, I was very happy to see they would fit in the space I had in mind. I like shopping from my own house and reusing items.
I cleaned the shelving unit and placed it under the window. Then I added some knick-knacks, a smartphone tripod (for pictures or videos I'm planning on creating). I'm much happier with the view behind me during Skype or Zoom calls.
With the addition of an old iPhone docking system hooked up to play music, my home office is now highly functional and I place I truly love to work. Everything I need is at my fingertips, which is important.
I hope you've enjoyed this post and gained some inspiration from it.
Book a free consultation call with me and let's get organized together.